YES! 100% SOLAR... :-)
Sustainable green electricity does not have to come at a premium. In fact, it is increasingly becoming more affordable than the fossil fuel based one. Installing a photovoltaic (PV) system at your residence or commercial property is great. And in many places that is still the best way to "go solar". But solar alternatives, to panels in the premises, will continue evolving.
The economy of scale from utility size PV deployments cannot be over looked. Solar farm projects can efficiently install, setup massive amounts of panels; and squeeze more power by way of high quality design practices and products. Rivera Engineering has been involved in several large and utility scale projects.
When talking about affordability everybody likes to see real life numbers... Rivera Engineering just pay around 8.6 cents/KWh for 100% photovoltaic electricity through Chariot Energy, a Texas retail electricity provider (REP). See below the bill for March 2020.
This may be a good time for you to take a harder look into the monthly electricity bill. Have you ever considered green energy options? What are the current options at your specific market place? What can you do to influence the local energy policies on sustainability? As a global player, Rivera Engineering knows that particular options can vary dramatically. But it never hurts to ponder on the financial (and environmental) costs of electricity, for a better world!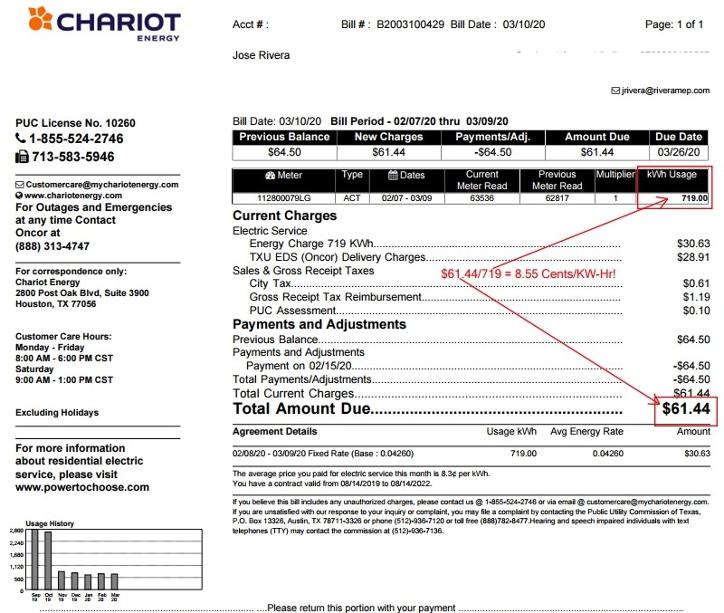 To learn more about Chariot Energy click on the logo and the link below it. Feel free to contact us with any inquiry related to energy use and/or electricity service. Rivera Engineering provides design, energy consulting, predominant use studies, inspections, forensics and other related services.